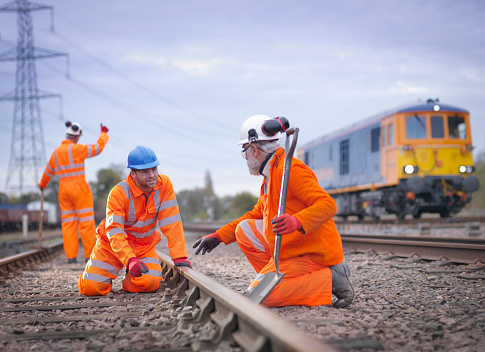 Are you looking to kickstart your career in The Railway? If yes, a Rail Engineering Apprenticeship is where you need to be. Rail can represent an interesting and rewarding career path. As a Railway Engineer, you will be doing work that makes a difference to millions of passengers everyday. The apprenticeship is a fantastic way to build on your existing skills and develop new ones that will be essential to your future in the business.
Not only is this career fun and rewarding, you are also looking at the potential to earn up to £70,000 with the average salary starting at £25,000. 
Occupational Profile for Railway Engineering
Rail Engineering Technicians will provide technical support to Rail Engineers. Some examples of what the engineering disciplines will cover include; track, overhead line, signalling and telecommunications. As an apprentice you will have the opportunity to undertake the core learning and specialise in one particular field. Job titles include: Track Technician, Overhead Line Technician, Electrification Technician, Traction & Rolling Stock Technician, Signalling Technician, Telecoms Technician and Rail Systems Technician.

The entry requirements for this role are typically at least GCSEs in English Language at Grades 9-4, Maths at Grades 9-5 and one other subject at Grades 9-4. Or you will hold an NVQ or BTEC Level 2 of above in an Engineering subject or equivalents.

Core Knowledge, Skills and behaviours of a Railway Engineer (level 3)
There are several knowledge, skills and behaviours that are required of a railway engineer. Throughout your apprenticeship you will develop and improve each one of these. To see the complete lists, visit Institute for Apprenticeships' "Rail Engineer Apprenticeship" page.
Knowledge Required
Safe and Professional working practices 
The scientific, technical, engineering, mathematical and design principles
How to work effectively and contribute to engineering solutions and innovation
The importance of 3rd party requirements and client confidentiality
How the railway works commercially   
Skills Required
Keep themselves and others safe by adhering to safe working practices.
Plan a high standard of technical work
Deliver a high standard of technical work
Solve problems
Manage resources
Communicate effectively
Behaviours that a railway engineer should demonstrate
Act professionally
Be risk aware
Display a self-disciplined, self-motivated, proactive approach to work
Work reliably and safely
Work effectively and efficiently, individually and as part of a team
Receptive to feedback
Prepared to make a personal commitment
Specific Knowledge and Skills:
In addition, for the discipline they are following, Technicians will have the following specific knowledge and skills regarding different techniques and methods used to construct, install, maintain and renew The Railway.
Track. You will need a good understanding of track geometry, the requirements, methods and techniques to install track. The impact of the railway environment e.g. tunnels, embankments, vegetation and drainage. Be able to undertake detailed inspection and analyze the performance and condition of track.
Electrification. Be able to work to high and low voltage power rules, isolation and earthing of electrical systems at different voltages. Work on live battery & inverter systems. Understand, manage and maintain harmonic & power quality systems, transformer rectifiers, motor generators and transformers, DC traction breakers, protection and SCADA control systems.
Overhead Lines. Knowledge of excavation, ground works, different 'piling' methods and foundations. Understand construction design and bonding layouts, electrical clearance, insulation installation wiring and risks around radial load and correct methodology.
Signaling. Understanding and application of safety integrity and fundamental signaling principles as applied to train control systems, the varying types of signal control and the signaling symbols and alphabet used in signaling design drawings.
Telecoms. Understanding telecoms principles and associated operating procedures for railway communication and information systems (and systems interfaces) including optical networks, passenger alarm, customer information, CCTV and wireless networks.
Traction & Rolling Stock. Understanding of vehicle design, construction, maintenance and operation. Working knowledge of the traction and rolling stock systems, sub systems and components which include mechanical, electrical, process controller and fluid power equipment.
Rail Systems. This is a specialism in its own right and requires knowledge and skills from across the rail engineering disciplines above to be able to provide technical support and direction across a number of disciplines including traffic management systems, new train control systems, wheel/rail interface, remote condition monitoring and the requirements of a digital railway.

What Qualifications will you gain?
Qualifications gained during this Apprenticeship:
– Level 3 Rail Engineering (Competence)
– Level 3 Rail Engineering (Technical Knowledge)
Duration of Apprenticeship:
Typically 36 months. This will depend on your previous experience and access to opportunities.

Are you ready to take on the challenge?
See some employers / training providers ready to hire in the links below:
Check us out on LinkedIn and Twitter for industry updates