Occupational maps outline the new structure for employers to provide recognised pathways for apprenticeships and T Levels. Each occupational map shows a pathway of technical, higher technical and professional occupations that shows a progression route available to candidates. Technical occupations typically include level 2 and 3 vocational qualifications that focus on entry-level job roles. Progression is available into higher technical training programmes at level 4 and 5 which offers a natural progression within an organisation. Level 6 and 7 professional qualifications focus on providing more advanced training for job roles that provide a clear progression pathway.
The initial list of occupational maps lie within the following sectors:
Agriculture, environmental and animal care
Business and administration
Care services
Catering and hospitality
Construction
Creative and design
Digital
Education and childcare
Engineering and manufacturing
Hair and beauty
Health and science
Legal finance and accounting
Protective services
Sales marketing and procurement
Transport and logistics
These maps outline a clear structure on typical pathways that a candidate can take. Within the pathways typical job roles and progression routes are outlined by high-level definitions of occupations. Within each defined occupational route, an individual will be able to specialise in a chosen field. This is done by showing competency in a specific vocational qualification. Below we will look at some of the pathways and qualification routes for each of the occupational maps listed above.
Agriculture, environmental and animal care:
The pathways included as part of this occupational map are: Agriculture, Land Management and Production Pathway and Animal Care and Management Pathway.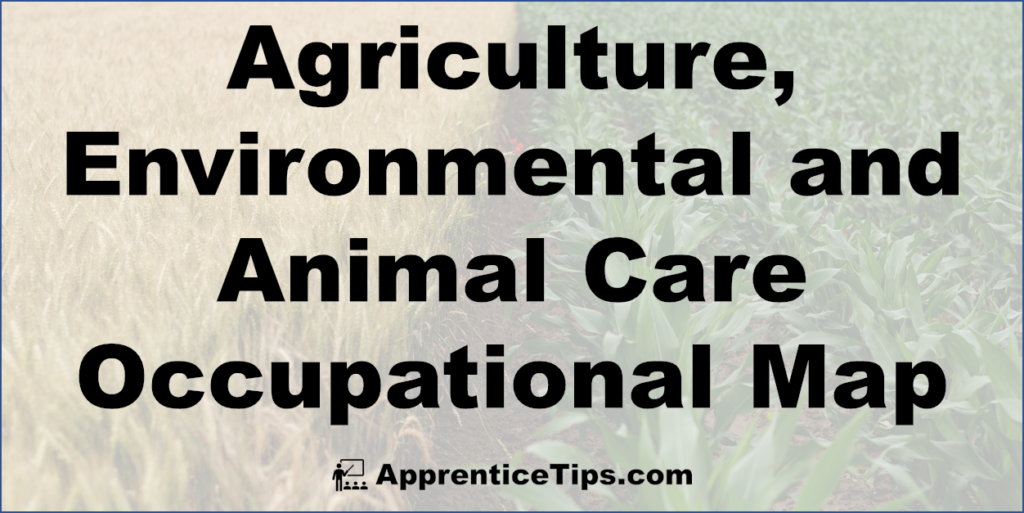 Under Agriculture, Land Management and Production, a typical technical occupation to start your career would be to work as an Agricultural Engineering Operative or Technician. This type of occupation is covered by qualifications such as the Land Based Service Engineer at level 2 or Land Based Service Engineering Technician at level 3.
To allow for progress the higher technical occupation is an Agricultural Engineering Manager. This includes the Agricultural Diagnostic Technician qualification which looks at managing local support and supply of equipment. The professional occupation is listed as an Agricultural Engineering Professional. This focuses on managing maintenance and sales of agricultural plant and equipment.
The qualifications provided to obtain this professional recognition are: Agricultural Dealership Professional; Agricultural Depot Manager; Agricultural Engineer and Mechanisation Manager. This is just one of seven pathways outlined by this occupational map. Other professions focus on forestry, conservation, landscaping and game/pest control. Each pathway provides a clear progression route. Opportunities are available to progress your career with the same or multiple employers depending on the specialism chosen.
Business and administration occupational map:
The business and administration occupational map provides two different pathways for career progression under the new occupational maps. These are the Human Resources Pathway and Management and Administration Pathway.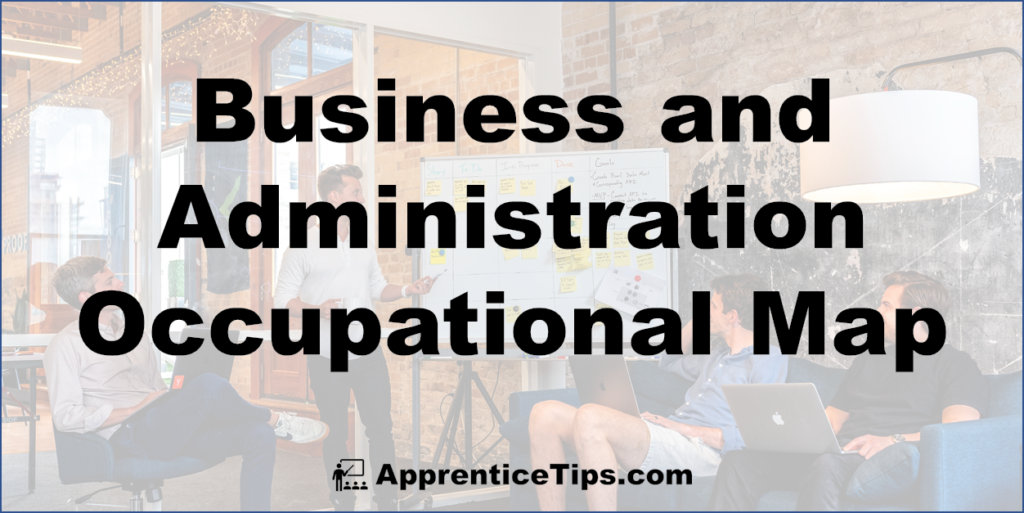 As an example, the Human Resources pathway would allow you to work in an entry-level position such as an HR Administrator. The next occupational outlined would be an HR Manager with further progression to an HR professional. A typical qualification route using the qualifications would be HR Support at Level 3 to HR Consultant/Partner at Level 5 to Senior People Professional at Level 7.
The same type of progression opportunity exists for the Management and Administrator pathway. The occupations are: Administrator, Business Manager and Management Professional. Depending on what route an individual takes, they could end up with a higher level qualification such as the level 7 Senior Leaders Masters Degree.
As with the agricultural occupational map, you can see that there are clear progression routes defined by each pathway. There are clear opportunities to undertake work-based training over an extended period of time to achieve higher-level qualifications. The opportunity to earn while you learn and eliminate University costs certainly makes the Business and Administration occupational map a great opportunity for those looking for a career in this field.
Care Sevices occupational map:
At present, there is just one recognised pathway for the care services occupational map. This provides two different progression opportunities.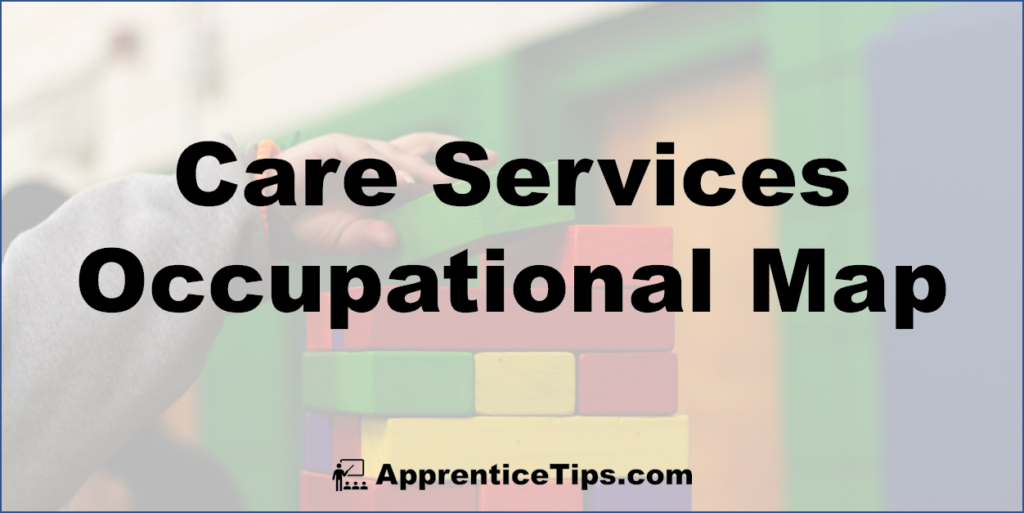 One route would allow a candidate to start an entry-level position as an Adult Care Worker and complete a technical qualification at level 2. Alternatively, they can complete the Lead adult Care Worker qualification at level 3. The next stage would involve progressing to an Adult Care Manager. An apprentice would complete a higher technical qualification such as: Counsellor, Lead Practitioner in Adult Care at level 4 or the Leader in Adult Care at level 5.
An alternate route would be to specialise in children, young people and families. The typical career progression here is from: Children, Young People and Families Worker to a Children, Young People and Families Manager with further progression to become a Care Services Professional. A suggested pathway using the technical qualifications would be: Playworker at level 2 to Children, Young People and Families Manager at level 5 to a Play Therapist at level 7.
Catering and hospitality:
This map offers two progression pathways which are quite obvious really, the Catering Pathway and the Hospitality Pathway. Presently, there are no recognised professional occupations outlined. However, both pathways still provide a clear progression route to secure full-time professional employment.
A catering candidate could start out on one of the level 2 or 3 qualifications that focus on preparing and cooking food. Some examples of these qualifications would be level 2 Baker or Commis Chef of the Pastry and Confectionery Chef or Senior Production Chef at level 3. The progression route after this to a higher technical occupation would be to a Catering Manager who completes the Senior Culinary Chef qualification at level 4.
For the Hospitality pathway, an individual would progress from a Hospitality Team Member or Supervisor to a Hospitality Manager. The technical qualifications for entry-level positions are Hospitality Team Member at Level 2 and the Hospitality Supervisor at level 3. The higher technical qualification available here is for Hospitality Manager at level 4. This looks at activities such as events management, kitchen management and housekeeping management.
Whilst the higher qualifications are capped at level 4 for catering and hospitality at present, with the Government incentive to drive further career progression opportunities through apprenticeships and T Levels, there should be no limit on how you can progress your career within each field.
Construction occupational map:
The construction occupational map includes 3 pathways as follows: Building Service Engineering Pathway; Design, Surveying and Planning Pathway; Onsite Construction Pathway. These pathways include a vast array of different technical qualifications to provide training coverage for the listed occupations.
The Building Service Engineering Pathway three different occupational routes. These are building services, facilities management, and utilities installation and maintenance. Building services includes an occupational progression from operative/technician progressing to building services engineering technician and through to an engineering professional in this field. One example of a professional qualification is the level 6 Fire Safety Engineer certification.
Under the Design, Surveying and Planning Pathway typical individuals can progress from a technician to advanced technician then become a recognised professional. Some of the higher-level professional qualifications are: level 7 architect, level 6 chartered surveyor degree and level 6 civil engineering degree, to name a few.
The Onsite Construction Pathway covers 4 different occupations. These are: Construction Operate or Supervisor, Specialist types of construction operatives, core building and construction site workers and meal and steel operatives. Currently, the highest obtainable professional qualification across this pathway is the level 6 Construction Site Management degree.
Creative and Design occupational map:
The creative and design occupational map includes the following three pathways, craft and design; cultural heritage and visitor attractions; and media broadcast and production.
Craft and design includes fields such as graphic design, textile designer, model maker and leads to potential professional qualifications such as a fashion, furniture or interior designer. Other specialist occupational focuses are heritage craftsperson leading to a heritage specialist such as a bookbinder or glass craftsperson. The precision manufacturing occupation focuses on providing career opportunities for individuals looking to specialise as a clock or watchmaker; instrument maker or repairer or spectacle maker. Additional occupational areas are also available for those looking to pursue a work-based training opportunity as a fashion or textile professional for saddles, weaving or upholstering.
The cultural heritage and visitor attractions pathway provides opportunities for those that would like to archaeology, collections and museums. Within this pathway a number of higher-level qualifications such as librarian, curator and archaeological specialist exist.
The media broadcast and production provides a wide range of technical, higher technical and professional qualifications. Types of job roles within this sector are limitless really and many different occupational paths and progression routes exist. A number of degree apprenticeship opportunities provide opportunities to undertake professional occupations. Outside of the main pathway the opportunity to gain an entry-level qualification exists through the production arts assistant technical occupation.
Apprenticeship occupational maps summary:
More occupational maps will be added to this article as time progresses but you can see the clear progression routes and clear definition that allows candidates to specialise within their chosen field.