Have you always wanted to work for the NHS? or wondered how to train to be a mammographer? If so, read on to find out how you could become an apprentice mammography associate. Help and support women with their wellbeing and health by learning and undertaking mammography of individuals as part of the NHS breast screening programme.
Occupational profile of Mammography Associate
The primary role of a mammography associate will be to undertake mammography of individuals, including individuals which have symptoms of breast disease. By the end of your apprenticeship, you will be expected to have a good understanding of breast anatomy, physiology and pathology. You will also be able to tell clinical signs and symptoms of breast cancer and be able to apply your knowledge of ionising radiation regulations.

You will be taught technical skills in operating equipment in the breast screening programme, such as the specialised mammography equipment, and you will be responsible for monitoring the equipment's functions and performance. You will learn how to use the specialised equipment to produce consistently high-quality images to meet the NHS Breast Screening Programme Standards.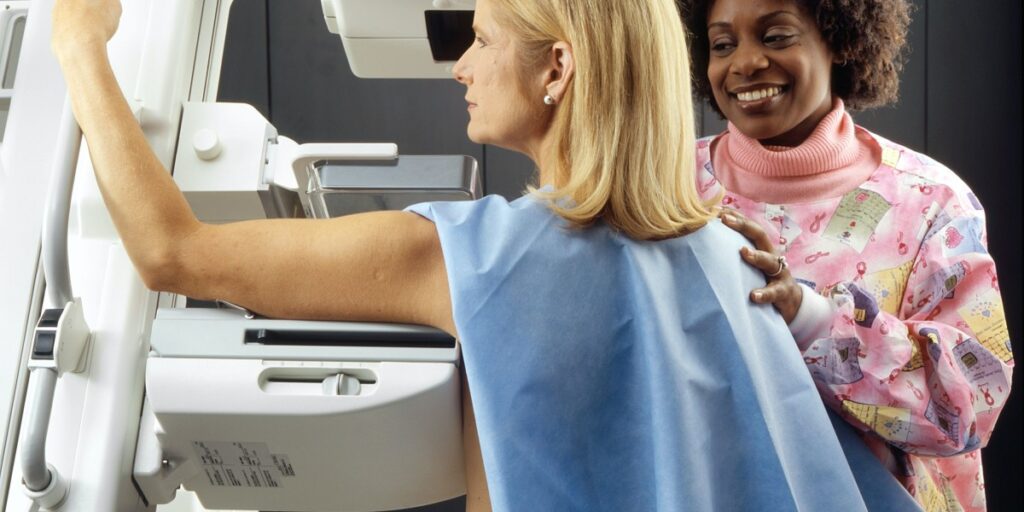 Responsibilities of Mammography Associate
Within the NHS, you will be working in a sector that can be sensitive, challenging, and will require a lot of discipline, and you will need to promote and maintain a professional practice. You will have responsibility for not only the specialised equipment, but for individuals in the NHS Breast Screening Programme, and the work environment. You will be expected to prepare and safely operate the specialised mammography equipment within standard operating procedures. You will also be expected to prepare and take care of individuals in the programmes, reassuring, advising, and supporting them during this sensitive time, you will be expected to have effective interpersonal and communication skills to help with this.

During the role, you will be responsible for maintaining comprehensive and accurate records, using the information management systems. You will have the duty to perform and record routine regulatory quality control tests on all specialised equipment in the sector.

Mammography associates must act in a professional manner at all times, treating individuals with respect and dignity, as well as respecting individuals' beliefs, culture, and values. Adopting an empathetic and discrete approach to situations, and demonstrating the courage to challenge yourself within the role and challenge areas of concern. You will be able to deliver a high-quality experience to all women during their time within the Breast Screening Programme and be committed to the role.

Qualification requirements for the Level 4 Mammography Associate
The mammography associate apprenticeship provides an opportunity to work and learn within the breast imaging workforce, working in a team to help support women in the community. This apprenticeship provides an excellent opportunity for starting on a pathway into the NHS, which offers excellent career progression and learning opportunities.

The entry-level requirements for this level 4 mammography associate are a level 2 in English and Maths. Apprentices with our level 2 in English and Maths will be expected to achieve this prior to the end-point assessment. For apprentices with prior education, health and care plan, or a legacy statement, a level 3 in English and Maths (British Sign Language qualification is an alternative to English for applicants whom this is their primary language). This gives everyone the chance to succeed and come out highly qualified at the end of the apprenticeship.

Conclusion
The level 4 mammography associate position is an excellent opportunity and starting point for anyone willing to take on the challenge of working in the health, care and science sector. The skills learnt during the apprenticeship will open up a range of progression opportunities in the field and will give you a range of work experience you can't find at other places of work. In addition to the skills you will learn, you will also earn, allowing applicants of any age to work in the NHS Breast Screening Programme. This apprenticeship will give you a range of opportunities and experiences, allowing you to learn and grow in a rewarding career.

If this isn't the right apprenticeship for you, why not check out some more of our informational blogs on apprenticeships in other work sectors!

Keep up to date with us and our new blogs on LinkedIn, Facebook, and Twitter