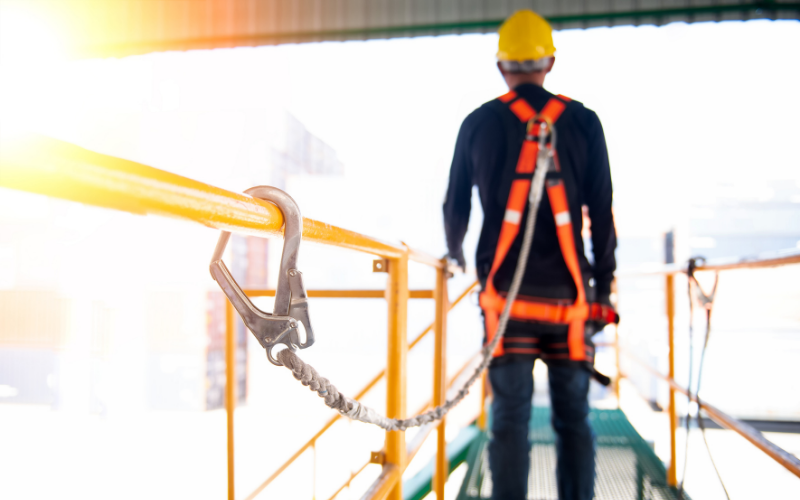 Installing safety critical construction products designed to keeps others protected from injury
Are you a hands on worker passionate about the construction industry? If so, this one of a kind apprenticeship role is the opportunity for you…
This program is designed to provide you insight on the serious risk of injury when working at heights and covers all aspects of using fall protection equipment, such as harnesses or ladders, to minimize or completely avoid accidents from heights.
What exactly does this role entail?
Fall Protection Technician is an occupation found in mulitple environments and sectors. Locations can be urban or rural, within buildings or outdoors. It is a highly technican role involving autonomous working and supervisory responsibilities to undertake safety critical work typically in small teams of 2-4 persons installing products designed to keep others (maintenance, industrial commercial and cleaning staff and access specialists) safe from injury due to fall hazards in the future. As well as working in teams, technicians are required to work alone and be solely accountable for the work they carry out.
In their daily work an employee interacts with construction sites managers, building managers and a wide range of clients. They will typically report to a Contracts Manager or the technical design team. As technicians are responsible for installing height safety equipment designed to provide lifesaving protection to other, they will need to have technical knowledge of the basic engineering principles behind the products they install and a wide range of practical expertise in the application and interaction this equipment and building structures. They will be able to read and interpret engineering drawings, designs and product documentation to effectively plan and organize their own work, taking responsibility for their own acts and omissions to their level of competency.
What kind of disposition is needed for the role?
In order to keep the workplace environment healthy, below are the standards all employees are expected to uphold. One must:
Take responsibility for own judgments, actions and standards of work, be aware of the limits of their own competence, take initiative for ensuring their own competence is maintained and update
Be willing to learn and continually develop, keeping up-to-date with current legislative and industry regulations and guidelines.
Apply rigor and attention to detail in all tasks
Promote a positive health, safety & environmental culture through situational awareness and personal example.
Be determined to succeed, consistently achieve personal and organisational targets, act to resolve day to day issues, receptive to new ideas and respond well to day-to day challenges.
What you will gain from this opportunity
This apprenticeship provides you with an abundant new skill set. You will learn how to: use, access and work at height equipment in accordance with training and employer's/manufacturer's instructions, Interpret design specifications: accurately reading engineering drawings, details, specifications and quantities, Install and set up fall protection systems and all the while meeting and working with like-minded individuals who share your passion for construction and maintenance.
There is also an array of knowledge you will consume during this course. Here are some examples on the theory side of things:
The principles of working at height and the different types of height safety (roped access techniques, horizontal and vertical track systems) and access equipment (MEWP, tower scaffold, ladder) including techniques and the limitations of each, permits to work, licencing and storage requirements.
Engineering principles including: setting out and surveying, forces, mass, weights units of measure and the principle of lever arms, principles of loads absorption, physiology of arresting a fall, identification of building materials including accurate identification of masonry construction, identification of building structure, bimetallic corrosion. Materials sciences including an understanding of why specifications are important and a basic understanding of the characteristics of failure.
The range of structural fixings typically used in fall protection (masonry fixings mechanical & chemical, concrete fixings mechanical & chemical, roof sheet fixings, rivet and toggle, steel-work fixings, bolts/ clamps and hollow fix, tension in fixings – required torque, use of sprung washers and locking nuts). The limitations and application of these fixings, bimetallic corrosion, installation techniques, how to deal with varying site conditions, functional tests for installed equipment and completion of mandatory records.
Down the practical route…
For more information how the world of Fall protection works, take a look at the video below:
Additional details
Entry requirements:
A**-C GCSEs or equivalent experience
Duration:
Achievement upon completion:
Level 3 qualification as a Fall protection technician – equivalent to 3 A-levels
For more details on this apprenticeship, click this link !
Conclusion
To summarize, if you are looking for a hands on approach to learning the construction and maintenance trade then this is the route for you! Do not hesitate to reach out and contact us on LinkedIn for any inquiries or to view our website linked below for further information on why you should and how you can apply. If this career path doesn't seem to strike your interest, we have many other opportunities on our website linked here below:
Sign up to our email newsletter to receive more updates like this!
By signing up to become a member of the mailing list, you will be among the first to receive apprenticeship vacancies and information updates to keep you ahead of the apprenticeship game. Click the link below to get started!