Do you want to work in an industry at the leading edge of technology? With opportunities at companies such as AstraZeneca, GSK, Ineos and Pfizer, there has never been a better time to become a Science Industry Maintenance Technician!
What is a Science Industry Maintenance Technician?
A science industry maintenance technician helps to ensure creation and maintenance of safe operation of science industry plant through the installation, maintenance, testing and repair of mechanical, electrical equipment and instrumentation. This role requires proactivity to help find solutions to problems and identify areas where their working environment can be improved. As well as core engineering skills, maintenance technicians need to follow safe working practices, specific to this industry. Work varies, using specialist safety equipment, completing shift work and working on sites running 365 day operations.
Science industry maintenance technicians work in a wide range of companies, including, but not exclusively, chemical, petrochemical, polymer, primary and secondary pharmaceutical, biotechnology, formulated products, engineering and nuclear manufacturing.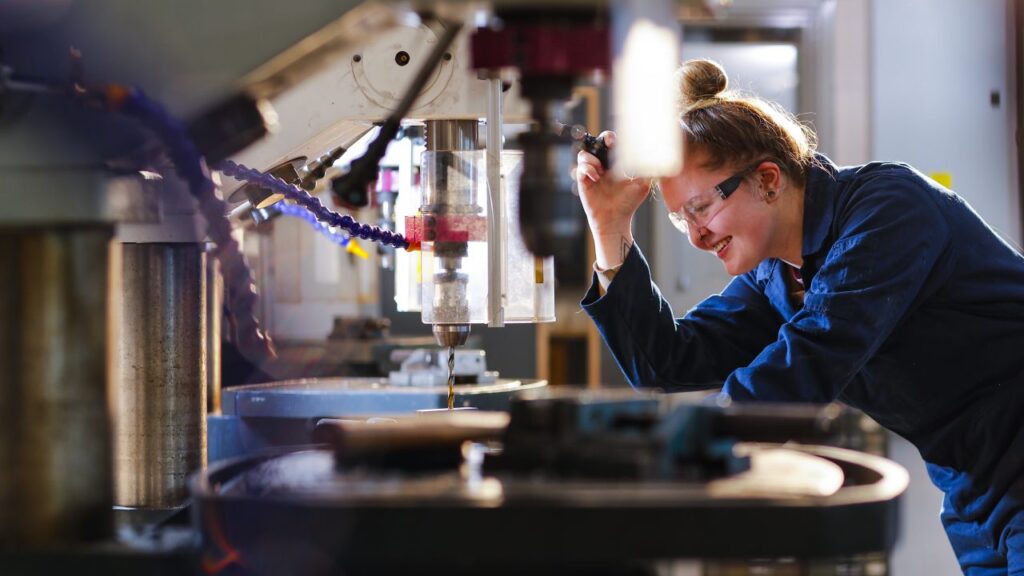 What Skills Do You Need?
Achieved a minimum of Grade C at Level 2 (GCSE) in:
English
Mathematics
Any Science Technology Engineering Mathematics (STEM) subject.
What Skills Are Desirable?
Strong Communication – You will be working with various stakeholders, therefore communicating effectively using a full range of skills will be required: Speaking, Listening, Writing, Body Language and Presentation.
Teamwork – Ensuring you are a team player, working effectively as part of your team.
Independence – The ability to take responsibility for your own work.
Proactivity – Initiating and completing tasks at work.
Awareness – Understanding of the impact your work on others.
Time Management – Ensuring work is completed on schedule and to an excellent standard.
Adaptability – To be able to react to change in a positive manner.
Perseverance – Pursue excellence in the face of adversity.
Willingness To Learn! – Someone who is motivated to improve.
What Skills Will You Gain?
Understand and follow internal and external regulatory procedures in order to meet the quality standards set out by both your employer and the industry regulators.
Understand your business's Goals and Objectives. Taking into account your own role within the organisation and how you can help to meet those objectives.
Maintaining systems and equipment that are relevant to your discipline, whilst following regulatory procedures (or multiple if required by your job role).
Apply techniques to identify and solve problems before they can arise, this applies to all aspects of the job role. (This can include systems, components, and inter-personal relations)
Understand and display relevant technical knowledge within your discipline.
Understanding how to identify end of life issues with equipment.
Understand and apply information taken from briefs, engineering documents, specifications, manuals and databases.
Input and interpret data accurately and efficiently.

Why Should You Apply?
This apprenticeship takes place over a minimum of 36 months, where you will learn valuable skills from your paid employment whilst receiving the specialist training from your Apprenticeship provider.
Upon completion you will have achieved a: Level 3 (Advanced) qualification – Equivalent to 2 A-levels
Salary during employment (to be confirmed by the employer) and a potential base salary upon completion of £29,000 per annum.
Opportunities in industries including but not limited to automotive, biotechnology, chemical, engineering, formulated products, nuclear manufacturing, petrochemical, polymer, primary and secondary pharmaceutical.
It's an excellent opportunity to kickstart or accelerate your career in the STEM industry!
Conclusion
The Level 3 Science Industry Maintenance Technician Apprenticeship is an amazing opportunity for career growth. With so many recognisable industry leaders taking on Apprentices, now is an excellent time to consider this career path. You will gain many desirable soft and hard skills that will make you an invaluable asset to the industry. You may choose to continue with your current employer or see where your experience and knowledge can take you in the industry. There is also further opportunity to study with at a higher level with an example of a Level 6 Science Industry Process Plant Engineer building upon the skills gained at level 3 to help design and manufacture chemical, biological or science-based technologies. The options and opportunities within the industry continue to grow as more resources are invested into apprenticeships, with both employers and apprentices seeing a bright future in the industry!
Check out our other Pages
Thinking of Applying? See what courses are available.
Keep Up to date with our Social Media Pages: