A guide to Social Media for your Digital Marketing Apprenticeship
Have you recently started or are looking to start a Digital Marketing Apprenticeship? Well Social media is a huge part of digital marketing, so if you want to learn the basics of social media keep reading…
What is Social media marketing?
Social media marketing is an aspect of digital marketing where a business promotes their product or services on social media platforms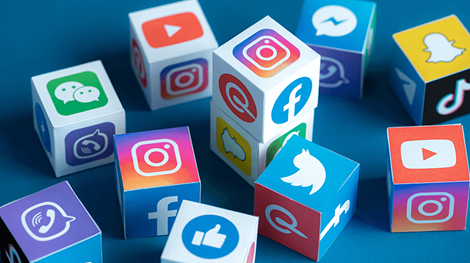 Examples of Social media platforms include:
Meta
Twitter
Reddit
TikTok
Snapchat
LinkedIn
Pinterest
and more
Organic vs Paid Social Media Marketing
There are 2 main types of social media marketing: Organic and Paid. Organic social is when a business posts content without spending money to reach more people, earning loyalty and growing their business organically. Paid social is when a business pays for campaigns on social platforms to reach more people and target specific demographics. Paid social requires setting up the campaign with specific goals in mind, such as: brand awareness, reach or traffic.
We're going to be focusing on paid social…
What makes up a Paid Social campaign?
Audience:
One of the key parts of a paid social campaign is deciding the audience. You can target: age, location, device, gender, interests, and past user activity. For example: if you received a brief for the newest iPhone, you may want to target technology lovers, in the UK, aged 18-34.
Placements:
You also need to decide which ad placements you want to do for each platform. For example skippable vs non skippable ads, in feed, collection ads, carousel ads, stories etc.
Influencers:
Recently, influencers have become a huge part of paid social media marketing. With platforms such as TikTok and Instagram producing more and more influencers, brands can pay them to promote their product. You can do this in 2 main ways: Pay the influencer to create content advertising your product, which you can then post from the client's account with paid reach, or the influencer can post the content from their account, and you can then boost the reach from the client's account. The use of influencers is great for targeting specific groups of people with specific interests, and younger audiences who use TikTok, Instagram and Snapchat more than other platforms that have less influencers.
Tests:
Your client may also want you to perform an A/B test within your campaign. This is when you split the budget and run (usually 2) identical campaigns, changing 1 variable. This could be: campaign objective, placements, targeting, creative etc.
Measuring performance:
You also need to decide on a KPI (key performance indicator) for your campaign so you can measure success. These could be: increased revenue, increased traffic to website, brand perception, purchase intent and many more. To measure your KPI, you'll use a metric such as revenue, link clicks, CTR, impressions etc. These help you conclude whether your campaign was successful, and how you can improve the campaign next time.
Ready for your Digital Marketing Apprenticeship?
Now that you've learnt the basics of Social Media Marketing, you are ready to start your digital marketing apprenticeship. This will include learning all areas of digital marketing such as search, display and programmatic, as well as social. Doing a digital marketing apprenticeship will help you gain experience, knowledge, and a qualification, to help you kick start your digital marketing career!
Learn more about digital marketing apprenticeships:
Click here to learn more about digital apprenticeships and the different qualifications you can earn!
So what can you do to learn more about paid social before your apprenticeship?
Most of the social media platforms offer training on how to use their ads manager platforms, such as Twitter flight school, which will help you get a head start with your paid social career. If you want to improve your general digital marketing knowledge, why not complete the Google Analytics exam, as employers will love to see this on your CV.
Where to find us:
If you have any questions, please feel free to reach out to us on any of our social medias!