Farrier Level 3 Apprenticeship
Farrier Level 3 Apprenticeship
Do you have a passion for working with horses and caring for their well-being? If so, a level 3 Farrier apprenticeship could be a good option for you and open up the possibility of a new career path. Read on to find out more.
Summary of the standard:
As part of their holistic approach to the equine, farriers are in charge of maintaining and caring for the feet of the animals. To do this, they must have a deep understanding of all facets of equine hoof care across all equine disciplines, from basic pleasure horses to top-level competition horses. Farriers can evaluate the gait of horses (movement). Farriers must be capable of speaking with owners and other experts, notably veterinarians, about the state of horses and their hooves. They are also accountable for the quality and correctness of their work. The alternatives for equine wellbeing that farriers can advise on range from basic corrective work on lame horses to trimming a horse while it is in the pasture. The practice of Farriery is thoroughly regulated, and all farriers must pass the Diploma of the Worshipful Company of Farriers (DipWCF) exam in order to be listed on the Register of Qualified Farriers and engage in legal business. Once certified, you have a choice to operate independently or join a Farriery practice to work in a team.
Entry requirements:
To complete this standard, there are some requirements that must be met which have been listed below. It is important to be aware that employers may set out their own specific requirements alongside these.
Minimum of 5 GCSE's at Grace C or above, including English, Maths and one Science.
Apprentices without English and Maths Level 2 will be required to complete this before taking the end point assessment on (EPA).
Duration:
This apprenticeship typically takes 48 months to complete because it gives apprentices enough time to develop the necessary skills and knowledge needed to achieve the Worshipful Company of Farriers Diploma qualification (DipWCF). This qualification is important as it is the minimum standard needed to be completed to ensure apprentices understand the duty of care they have as a farrier to meet equine welfare standards as required under the Farriers (Registration) Act 1975.

What you will do: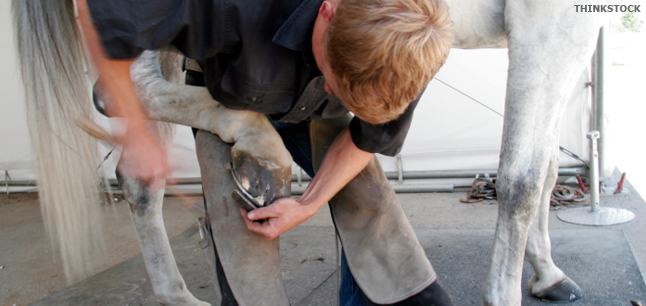 As a farrier, your responsibilities could be slightly different depending on your employer but generally, you will be responsible for the below:
Check horse's legs, feet and hooves for any issues
Liaise with horse owners about what work is required from you to best assist them
Cut away any extra hoof growth and make sure the horse is comfortable and balanced
Choose appropriate shoes for horses based on their size, foot condition and types of activity they are involved in
Make horseshoes by hand or using an appropriate machine
Shape shoes using a hammer and anvil and then fit them onto the horses
Skills and knowledge you will need:
As part of this apprenticeship, you will develop new skills and knowledge which will be key to your success as a Farrier however, we have listed below some you will already need to hold to complete this apprenticeship.
Attention to detail
Excellent verbal and written communication skills
Ability to work independently
Ability to work well on your feet and with your hands
Customer service skills
Thinking and reasoning skills
Ability to operate and control equipment whilst adhering to rules / best practice
Ability to work well and remain calm under pressure
Basic computer literacy
Adherence to legal and ethical frameworks
Professional Qualifications
This standard is acknowledged by the Farriers Registration Council (FRC), which registers and regulates all qualified farriers, including ATFs. It is also recognised by the Worshipful Company of Farriers, which is in charge of farriery standards of competence in the industry under the Farriers (Registration) Act of 1975. The Farriers (Registration) Act of 1975's mandated examination for registration called the Diploma of the Worshipful Company of Farriers (DipWCF), must be passed by apprentices to finish their apprenticeship. The apprentice will be able to use the post-nominal DipWCF and may submit an application for registration with the FRC after successfully receiving the DipWCF qualification.

Conclusion:
Overall, the level 3 Farrier apprenticeship is a great starting point for anyone looking to pursue a career with horses. The skills you will pick up through this standard will set you up well to be able to take higher level qualifications, for example a Diploma in Higher Education or a degree in Farriery. You may be able to work with larger stables, horse breeders, vets or even equine hospitals. There is even a possibility for you to become self-employed in the future after picking up these skills and freelancing. There are endless opportunities which can be opened up after this apprenticeship which makes it an ideal standard for anyone with a passion to work with horses.
More information:
📝 See our range of resources here to help you make the right decision.
📌 Check out our latest blogs here.
Connect with us: