We've all been there, actively searching the internet for that specific dream job, yet we rarely ever know what that dream job actually is. With pressures to go to University and become a vastly successful businessman, there's no wonder you're here. However, do not fear! University is not for everyone. One option that's often forgotten about is Apprenticeships. But are they for you? With a 26% increase in Apprenticeship starts since 2018, they are quickly becoming popular. Within this, Digital Marketing apprenticeships are quickly gaining popularity above the rest. As a current Digital marketing apprentice, I will give my honest insights, as well as how you can succeed within one!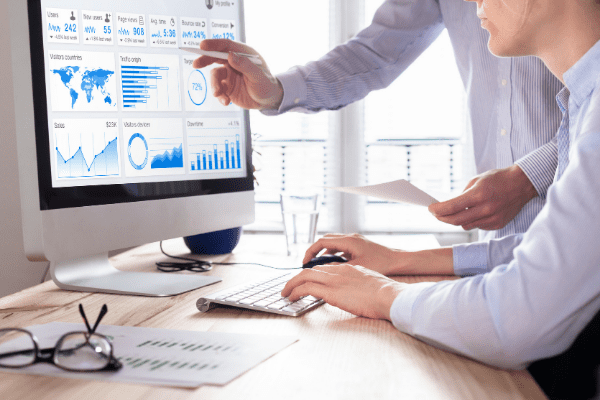 Working Ways in a Apprenticeship
Going into any job can be both very exciting but also very nerve-wracking. However, for most new apprentices, this is to be expected. This is because, often, this will be many of our first jobs after leaving school. Once you have control of your emotions, you will start to get more involved with day to day activities to help your business. Firstly, its important to know that no two days will be the same! Some days, you may have a lot of reports to fill out, and other days, you may have campaigns to set up. By having this variety day-to-day, each day is exciting and new. This variety will also quickly teach you communication skills, analytical thinking and time management.
Please do note that it's okay to not fully understand everything within the first few weeks/months of starting. From personal experience, it took me a very long time to get to grips with the day-to-day processes. I have social anxiety, so suddenly working with lots of new people was a big shock for me, but, if you keep your mind open and let them know how you feel, you will succeed. Now that I have worked as a Digital Marketing apprentice for a little over a year, I have a few recommendations on how you can succeed:
Ask your team for help, there's no negatives in asking for help, as it will help you grow.
Keep up to date with your workload. If you're struggling to keep on top of everything, let someone know before it becomes overwhelming.
Keep a positive mindset throughout your apprenticeship.
Congratulate yourself on small achievements, this helps towards building a positive mindset.
Don't be a afraid to push yourself to learn more.
Pretty Portfolio Pointers
As part of the level 3 Digital marketing apprenticeship, you will be required to produce a portfolio as part of the apprenticeship itself. Ultimately, this is simply a 'collage' or proof of work you have completed at work. If you are able to keep on top of this, I highly recommend putting just 1 hour a week to work on this project. Although sounding simple, from experience, it can quickly become a problem. A portfolio is showcasing your best work you complete day-to-day. Therefore, if you start to fall behind, I advise you to tell your line manager. This is because if you leave it too long, you may find yourself rushing to finish it and submit it before the deadline, as I did. As I mentioned earlier, time management will become vastly important, and this is one of the main influencers of this.
Within the portfolio, you will also need to complete a list of competencies. Some of these include confidently using 3+ technologies, communicating with internal and external clients and examples of customer service. You can find the full list with the following link 'occupational-brief-digital-marketer-1.pdf'. Many of these, you will naturally complete with your showcase of work throughout. However, I highly recommend asking your portfolio coach (you will be assigned one) for any help on how you can hit any competencies that you are struggling with. You can go through the list and ask your coach before your monthly sessions, as that is what they are for!
Key Takeaways
Overall, the main takeaways for portfolio success are:
Keep on top of everything
Set aside at least 1 hour a week to work on this
Make sure you understand how to hit each competency with your coach
Keep your team updated on the progress of your portfolio.
Level 3 Digital Marketing Apprenticeship Exams and knowledge
Exams and Knowledge
Unfortunately, exams are a part of many qualifications, and can be the make or break for some candidates. During the level 3 digital marketing apprenticeship, there will be 3 main exams, these are Principles of Coding, Marketing Principles and a Google Analytics IQ exam. Both Principles of Coding and Marketing Principles exams are timed and are done in exam conditions (no cheating) and will take place at a specific time that will be designated to you. I highly recommend that you also set aside at least a hour a week in the lead up to your exam to revise for these.
The Google Analytics IQ exam is more independent and can be taken any time throughout your apprenticeship but before Gateway. Gateway is basically a process where you will sit with your line manager and portfolio coach, and decide if you are ready to complete your EPA (End Point Assessment). To be ready for this, you need to have your portfolio complete, have completed your exams and have your employer reference written. Therefore, I recommend having everything ready at least a week before to ensure there is no stress.
Synoptic Project and Interview
Once you have passed Gateway, you will be undertaking your Synoptic Project and Interview. I am currently doing my Synoptic Project. It is a 4 day assessment where you'll will be given a brief and will have to complete tasks based on this brief. You will not be working your normal day to day jobs during this time. You should definitely speak with your coach and focus on practicing for this. In terms of your interview, you will have a 2 hour interview session allocated to you. During this, you will talk about your portfolio, your synoptic project and your employer reference. I recommend going over each of these to have a answer for any possible question. For more information, please visit the following link 'digital_marketer_assessment_plan.pdf'.
Key takeaways
Overall, again, I will sum up what the key takeaways are here:
Revise for all three exams well in advance of the test date.
You need to have these done, as well as the portfolio and reference before Gateway, I recommend at least 1 week before
Try to learn what is expected in a Synoptic Project.
Go over your pieces of work before your interview.
OTJ hours in your Level 3 Digital Marketing Apprenticeship
Along with your day to day work, it is required that at least 20% of your working hours are spent 'Off the job'. This means you should work on non-day-to-day related pieces of work. Examples include your portfolio, revising for exams, researching the latest market trends or self improvement.
I highly recommend speaking with your line manager and coming up with specific times during the week to complete this. This ensures that everyone in your team is up to date with your apprenticeship. During this time, I recommend you also track the time you spend not working, as if you are under that 20% threshold, you will know well in advance of your Gateway.
Conclusion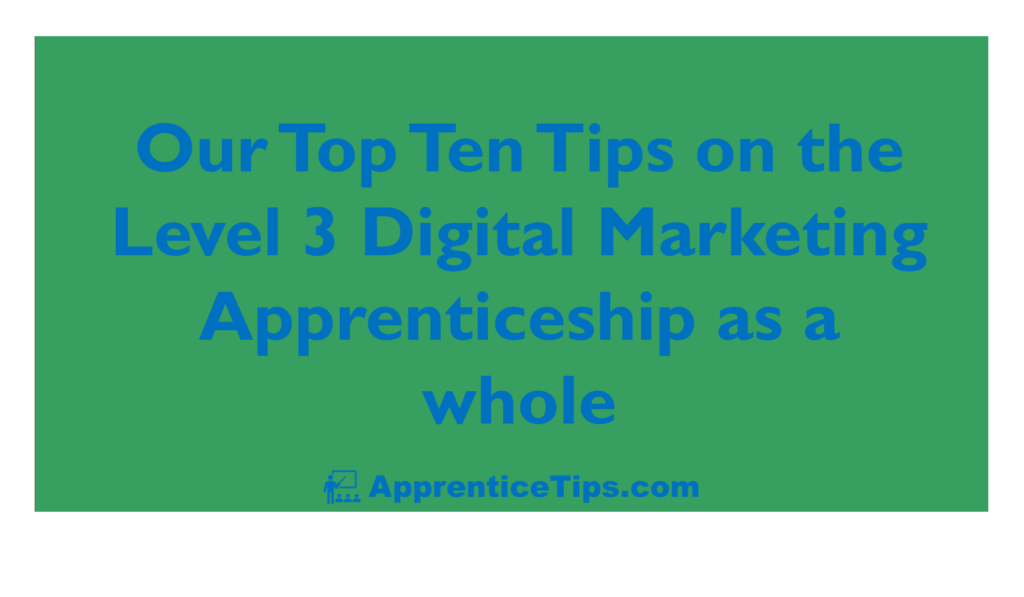 Finally, our top ten tips on the Level 3 Digital Marketing Apprenticeship are:
Have a full read of the Occupational standard for a Digital Marketer to ensure you fully understand what is expected of you and what to expect. You can find this ' Digital marketer / Institute for Apprenticeships and Technical Education' here.
Make sure you are ahead of schedule in terms of exams. The last thing we want is for you to start falling behind with revision and worrying.
Read through the occupational brief to ensure you know what is expected of you in terms of competencies.
Also, read through the Digital marketing assessment plan to understand the process of your apprenticeship
Try your hardest. No one will be complaining!
Take things slowly, don't expect to understand everything immediately.
Complete all exams before gateway and allow enough revision time for each.
Take time to plan for your synoptic project.
Keep on top of your portfolio and ensure that you are aware how you can meet each and every one of your competencies.
Lastly, enjoy it! Not everyone gets this opportunity, so make the most of it!
Please visit Level 3 Digital Marketing Apprenticeship – ApprenticeTips.com for more information about a Level 3 Digital Marketing Apprenticeship.