Are you interested in sustainable development, conservation and improving infrastructure?
Read on to find out how this Level 7 Chartered Town Planner apprenticeship can progress your career and give you the opportunity to impact and shape the towns, cities and villages we live in. Gain invaluable knowledge and skills to become a trusted professional, officially recognised by the Chartered Members of the Royal Town Planning Institute.
Jobs and Entry Criteria for the Level 7 Chartered Town Planner Degree Apprenticeship
While it is the individual employer who decides any entry requirements, an apprentice may typically be expected to have a relevant Level 3 qualification or equivalent (such as A Levels), to embark on this course.
Level 2 English and Maths are also required in order to take the end point assessment, however apprentices can achieve these after undertaking the course if they so choose.
British Sign Language qualifications can replace the minimum English requirement if this is the primary language the apprentice uses.
For those with an education, health & care plan, or legacy statement, the minimum English and Maths requirement is Entry Level 3.
The Chartered Town Planner Degree Apprenticeship opens a wide range of opportunities for an apprentice, with the option to go on to work for an organisation or as a contractor. Sectors an apprentice can go into are varied, including:
Construction
Environment
Housing
Energy
Transport
Regeneration
Coastal Heritage and Conservation
Minerals and Waste
Jobs are also available across local and national governments, private consultancies, corporations, and voluntary or non-governmental organisations, so there is a wealth of options available to an apprentice with this Level 7 qualification. When looking for a job in this field, there are multiple roles to keep an eye out for. Some typical job titles that apprentices may expect to look for include Planning Officer, Town Planner, Planner, and Development Management Planner.
Not only can this Level 7 degree apprenticeship open doors right now, but there is plenty of opportunity for further progression, with the course giving you the necessary base to go on to more senior roles in your career, for example as a Senior Planner or Principal Planning Officer. With sustainable development at the forefront of discussions today, town planning roles will continue to be essential to society and prove a stable long term career.
Key Responsibilities of a Chartered Town Planner Apprentice
Chartered Town Planners seek to balance economic growth and the needs of a community in terms of homes, jobs and facilities, with the impact on the environment. They are responsible for finding sustainable ways to develop the villages, towns and cities we live in, changing and improving them whilst keeping environmental integrity front of mind. Town Planner responsibilities include:
Researching and assessing technical information, data and surveys when considering proposals
Assessing land areas in person where necessary
Preparing statutory planning applications and proposals
Analysing and identifying land planning issues, allocating sites and resources (environmental, social and economic)
Formulating local strategic planning policy, laws and practise
Delivering infrastructure to the benefit of the public i.e. roads, railways, minerals, waste and energy facilities, collaborating with professionals including architects, surveyors, engineers, builders and environmental specialists when necessary
Attending committees, public inquiries and appeals, presenting when necessary and listening to ideas and answering questions
Write complex reports for a wide range of audiences including politicians, the public, and commercial clients, to assess and explain legislation, recommending if a plan should be accepted.
In carrying out responsibilities, it's important to remember that Chartered Town Planners are held to the professional and ethical standards of the Royal Town Planning Institute. Decisions will have a long-term impact on economic, social and environmental well-being, so it's critical to make sure the quality of work and level of service is high.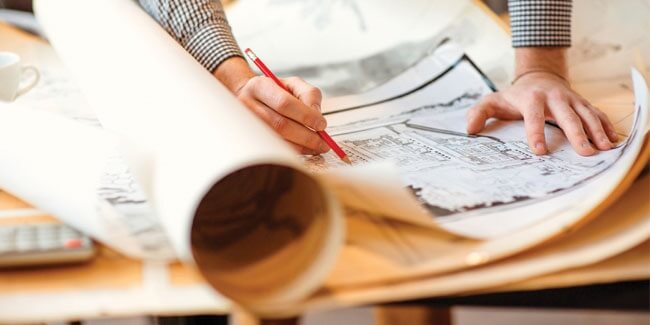 Level 7 Chartered Town Planner Core Knowledge and Behaviours
In carrying out a role as Town Planner, there are a number of core skills, areas of knowledge, and behaviours you will need to hold and demonstrate.
Skills
Skills include creative vision and design, research and critical analysis, decision making, plan implementation, stakeholder management, project management, collaborative working, communication and presentation skills.
Knowledge
Knowledge of planning theory and policy, as well as related law, political, and economic frameworks is essential to the responsibilities of a Town Planner. Understanding spatial design, sustainable resource management, community and stakeholder engagement, as well as professional ethical frameworks is also important to grasp.
Behaviours
The apprentice is held to the Royal Town Planning Institute's standard of professional conduct. Within this, there are certain behaviours a Chartered Town Planner is expected to exhibit including honesty, integrity, due diligence, independent professional judgement, respect and equality. Aside from this, a focus on outcomes, positive attitude and a desire to learn and improve the world we live in will help an apprentice fulfil the role to the best standard.
The occupational standard for the Chartered Town Planner Degree Apprenticeship will offer further information on the skills and knowledge a Town Planner should understand, and explain what these are and why they are necessary in more detail.
Chartered Town Planner Assessment and Qualification
This Level 7 apprenticeship normally takes five years to complete, however depending on any planning qualifications the apprentice already holds, this may be shorter.
Upon entering Gateway, typically at 60 months, the apprentice has two methods to undertake.
Method 1 is professional discussion, presenting a reflective journal on pre-gateway experience and discussing with an independent assessor. This must be passed before apprentices can submit method 2.
Method 2 is an assessment of professional competence written assignment, where apprentices continue work experience, documenting professional experience gained post-gateway in a reflective journal. Once submitted, an assessor will grade the document against the skills, knowledge and behaviours listed above.
Upon completing the degree apprenticeship, apprentices will get a qualification from the regulating body, Royal Town Planning Institute (RTPI) accredited Planning School. They will become Chartered Members of the RTPI and officially able to use the title 'Chartered Town Planner'.
For more information on the Town Planner Apprenticeship and assessment methods, see their assessment plan.
Conclusion
The Level 7 Chartered Town Planner Apprenticeship is a great way to progress or embark on a career in sustainable development that has a tangible positive impact on the communities around you. It is an accessible course open to past apprentices and employees looking to learn and grow in this industry, allowing you to earn while you learn. With an accredited qualification from the RTPI and a bounty of key skills and professional knowledge, this apprenticeship is valued by employers and apprentices alike, opening up a huge range of job opportunities across a variety of sectors – the options are endless.
Sign up to our emails to learn more about apprenticeships, and receive great tips and tricks to progress in your career:
Got some questions? Reach out to us on one of our social platforms (Twitter, LinkedIn)