Paramedics are on the front line of saving lives, they are often the first to respond to a range of incidents, from major to minor. They are trained to deliver advanced emergency medical care to patients. Paramedics work shifts and are often exposed to traumatic or stressful scenarios, the role can be physically and mentally demanding and will often involve mobile working, and working outdoors under any weather condition. No two days on the job are the same, often the first to respond to traumatic situations, they are required to make risk assessments and make life-saving decisions, providing equal high-quality care to all. If this sounds like the perfect job for you, you should consider a Paramedic apprenticeship!
Jobs and entry criteria for the Level 6 Paramedic Apprenticeship
A paramedic's occupation purpose mainly includes responding to all categories of 999 emergencies, providing clinical care and transportation to the nearest appropriate hospital in a timely manner. The working environment for paramedics is not limited, they can be called to respond wherever an emergency may be, both urban and remote, indoor or outdoor. Some scenarios will be dangerous or inaccessible, requiring them to collaborate seamlessly with other emergency services such as police, fire brigade, or lifeguards. Paramedics may also have to interact with clinical staff, family members and members of the public as a daily part of their job. Paramedics can work alone or in teams while on shift.
Salaries for fully trained paramedics range from £24,907 to £30,615.
To become a paramedic, apprentices will have to meet the entry requirements set by the university. They must also have achieved English and maths GCSE prior to starting this apprenticeship. A British Sign Language (BSL) qualification is an accepted alternative to the English qualification for those whose primary language is BSL.
Other required qualifications include:
Health and Care Professions Council approved BSc (Hons) Paramedic Level: 6 (integrated degree).
Level 3 Certificate in Emergency Response Ambulance Driving Course.
If the apprentice already holds a level 6 degree, other level 7 qualifications are approved by the HCPC.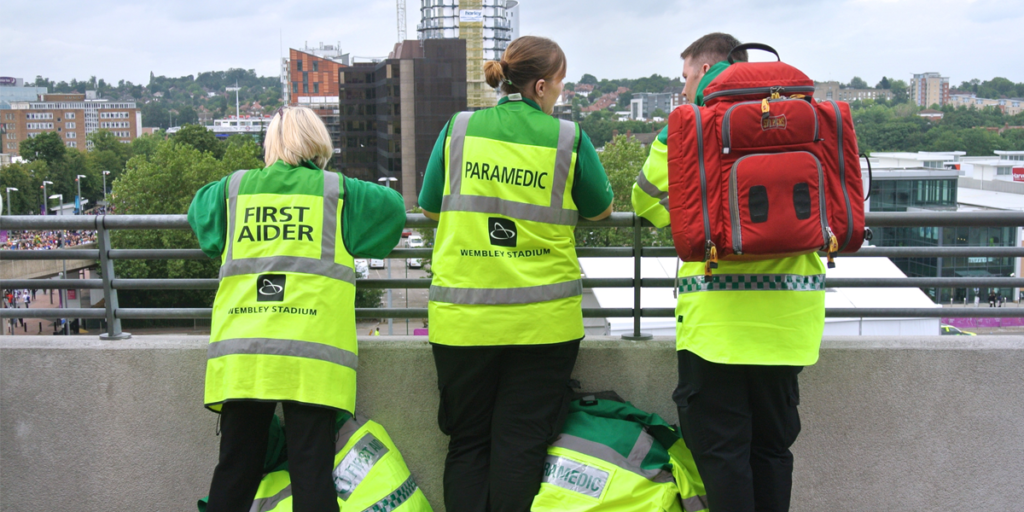 Key responsibilities for a Paramedic Apprenticeship
Apprentice paramedic's duties include working in line with Health and care professionals' ethical and statutory requirements. Paramedics will also be required to drive an ambulance or rapid response vehicle in both emergency and non-emergency scenarios, and maintain and equip the vehicle. Or during transportation of the patient, provide care within the vehicle. They will also need to be able to use, store and safely dispose of medicines and single-use equipment in line with the current protocols and legislation. Paramedics are also required to assess, evaluate, manage and diagnose patients while giving appropriate care for the patient and the situation. They will also need to oversee the health and well-being of a patient within the ethical boundaries of a paramedic. While on the job paramedics are also required to be able to communicate effectively with others and work as a part of a team with other services, healthcare professionals and agencies. All of this is covered within the paramedic degree.

Level 6 Paramedic Core Competencies
Paramedics are required to treat people with respect and dignity and honour the patient's diversity, beliefs, culture, needs, values, preferences and privacy.
Show respect for those around them and be empathetic to both patient(s), friends and family.
Act and make decisions within the limits of their own competency and seek advice or consent when needed from an appropriate person.
For more information and a full list of Knowledge modules, Skills and Behaviours covered in the paramedic training, visit The Institute for Apprenticeships' full standard.
Conclusion
A career in Paramedics is not easy, but incredibly rewarding and respected. It is a great career choice for those who thrive under pressure and pursues a career in Healthcare which requires great interpersonal skills. NHS apprenticeships are not very common at the moment and the Paramedic Degree Apprenticeship is one of the first to come about, making it perfect for anyone who prefers a practical approach to learning. There are a wide range of career progressions for paramedics, mainly into specialist areas such as Critical care paramedics, Firefighter-paramedics, Flight paramedics, SWAT paramedics or Seafarer Paramedics. There will always be a demand for paramedics.
Follow us on Linkedin and Twitter!
Latest posts: