If you're wondering how to become a self made digital marketing expert, here is the perfect place to start. Read on to find out the best tips and tricks to start a successful digital marketing career.
What is digital marketing?
Digital marketing is how you connect your brand with your customers, normally over the internet.
As more and more of our life becomes digitalised, digital marketing has taken over and there is a large demand for digital marketing everywhere. It is a great time to pick up the skill and take advantage of what digital marketing can do for your brand, or to start a career in digital marketing.
So, now you know what digital marketing is, you may be wondering how exactly to do it. Well, there are lots of new and exciting ways to get your brand out there, but let's start with the basics.
Read on to find out how to become a self made digital marketing expert.
Types of Digital Marketing
There are many different forms and channels in digital marketing. however it mainly refers to:
Search Engine Optimisation (SEO)
Pay-Per-Click (PPC)
Content Marketing
Email Marketing
Social Media Marketing
These are the main channels a digital marketer will use to reach their goals. A self made digital marketing expert will have to master all of these areas and more to understand how to grow their brand.
All of these channels have their own individual uses and you will need to learn the proper industry standards and best practices for them.
Getting digital marketing right
The most important part in getting digital marketing right is setting clear and realistic goals. You should start any digital marketing campaign in this way. You may want to get some new leads, or more sales on your website, or you may even just want to generate some brand awareness.
Whatever it is, you should keep a record of your targets and measure your success against them.
How to improve Search Engine Optimisation
Here are five quick ways you can improve your SEO (Search Engine Optimisation):
Publish relevant, useful content
Update your website frequently
Optimise metadata
Build up your backlinks
Use alt tags on your images
Search engine optimisation is an often overlooked part of growing your brand, however it should not be disregarded. The initial investment of creating content may be high, but it is certainly worth it.
Here are 5 ways to generate more website traffic.
How to use Pay Per Click
Pay Per Click is just that – you pay advertisers per click you get on an ad. This is most often done through Google.
This is how you set up a PPC campaign in five steps:
Set your goals
Choose an advertiser
Select the keywords you want to bid on
Set up your budgets
Write your advert and create a landing page for it to link to
PPC is a much faster way of seeing your return on investment (ROI), however it can be costly. Just remember to keep your budgets small at first, until you have an idea of what works for you.
Content marketing for beginners
Content marketing is all about finding out what makes your target audience ticks, and using that to attract them to your brand. This may include articles, videos, podcasts, and other media.
Content marketing is not to be confused with SEO. SEO is the process of optimising your web pages to rank higher in the search engines, whereas content marketing is used to reach more people to connect with your brand with the use of content.
As you can see, SEO is more technical, while content marketing is more creative.
Here are 7 ways to generate more website traffic.
How to up an email marketing campaign
Email marketing has been around since the start of the internet, and is still a very effective way of reaching the right audience. Here are some tips for always creating an successful marketing campaigns:
Build your mailing list
Set your goals
Send different email types for different purposes
Segment your audience
Monitor your analytics
Make your opt-in attractive
Always follow up
Create original subject lines
An important thing to be aware of is that sometimes less is more with email marketing. It may be tempting to always send everything to your whole subscriber list, but this will quickly begin to feel spammy and won't generate the leads you're looking for.
Instead, personalise and tailor your content for different audience segments and it will be much better received.
Here are 5 free email marketing tools to create effective campains in 2022.
How to launch a successful social media campaign
Now it is time to launch your first social media campaign. Follow these simple steps to never fall short again.
Research your competition
Decide on your strategy and change it if you need to
Use different types of content within a campaign
Use a mix of promotional and informative content
Find out what's trending
Make your content stand out
Create a social media schedule
Social media is a great tool to use as a digital marketer. You have the option to set up either paid or organic campaigns, suited to any budget. But which platform should you choose?
Find out more ways to make your social media campaigns successful.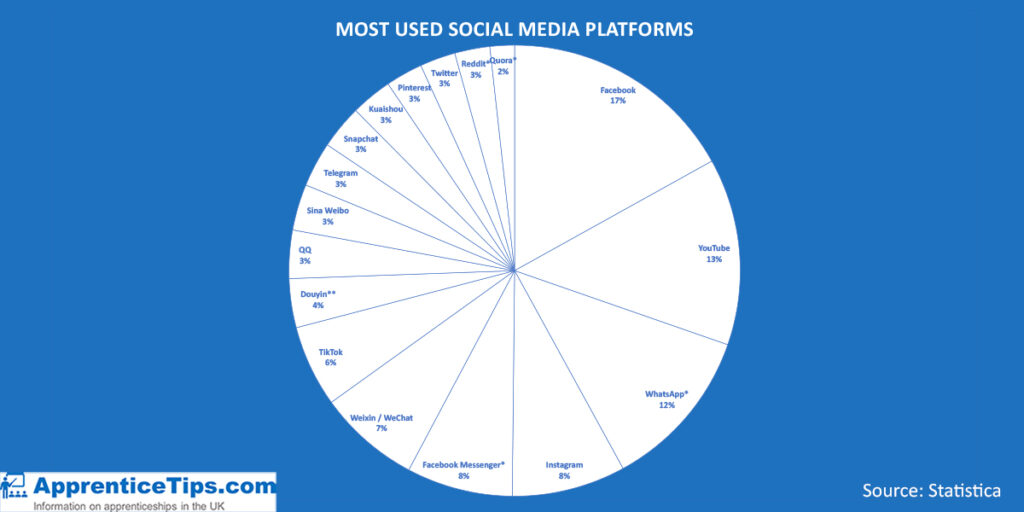 Pie chart of social media
It is also important to use the right platform. Research by Statistica shows that the most popular social media platforms in 2021 were:
Most used social media platform (millions)
Facebook – 2,895
YouTube – 2,291
WhatsApp – 2,000
Instagram – 1,393
Facebook Messenger – 1,300
Weixin / WeChat – 1,251
TikTok – 1,000
Douyin – 600
QQ – 591
Sina Weibo – 566
Telegram – 550
Snapchat – 538
Kuaishou – 506
Pinterest – 454
Twitter – 436
Reddit – 430
Quora – 300
Must have digital marketing tools
Some must-have digital marketing tools include:
Keyword research tool – SEMrush
SEO dashboard – yourSEOmarketingreport
Website analytics – Google analytics
Email marketing tool – Campaign monitor
Social media scheduling tool – Loomly
Photo editing tools – Canva or photoshop
Website tool – WordPress
Google data studio
These will help make your life much easier by automating certain tasks, tracking metrics or assist with content creation.
Is digital marketing a good career?
Digital Marketing a great career for anyone who is both creative and analytical.
You'll have a lot of variation in your job. From creating social media campaigns, to PPC and display advertising, to SEO and the daily running of a website. You'll never be bored in digital marketing.
It is important to note that you will need good english and maths skills, as the job involves a lot of analysing data and writing content. So, as long as that sounds something you'll enjoy, digital marketing is definitely for you!
How much money does a digital marketer make?
The salary for an entry-level digital marketer, like a digital marketing assistant can range from £18,000 to £22,000.
Once you are more experienced in digital marketing, you could be earning p to £30,000 a year.
In a more senior management role, you could get up to £40,000 and more.
Level 3 digital marketing apprenticeships
The best way to start a career in digital marketing is to take a digital marketing apprenticeship. This way, you'll be able to earn and learn, while gaining experience in digital marketing. But what does this mean?
If you take a digital marketing apprenticeship, you won't have to pay a penny towards your learning costs, as this is covered by the apprenticeship levy. You also will get paid for full-time work while getting extra paid time to work towards your apprenticeship.
Another great thing about a digital marketing apprenticeship is that you'll get the chance to gain valuable insight, knowledge and experience while you learn. You'll even get a recognised qualification after you finish!
Level 6 digital marketing apprenticeships
After completing a level 3 digital marketing apprenticeship, you'll be able to progress onto a level 6 digital marketing apprenticeship, which is actually a degree course. So, you'll be able to gain a university-level qualification without any student debt.
After completing a level 6 digital marketing apprenticeship, the world will be your oyster, giving you unlimited opportunities for career progression – you will truly be a self made digital marketing expert.