Level 2 Rail Engineering Apprenticeship Overview
Are you looking for a meaningful career in The Railway? The Railway has been an incredibly essential part of our development as a nation. Each year, over 1.7 billion train journeys are made in the UK and 9% of all of the UK's domestic freight was moved by rail. A Rail Engineering Apprenticeship is a fantastic way to build on your existing skills and develop new ones that will be invaluable to a Railway Engineer.
This apprenticeship can put you on the path to becoming a Rail Engineer, a lucrative job that earns on average £53,425 per year (range £22,880 to £143,000).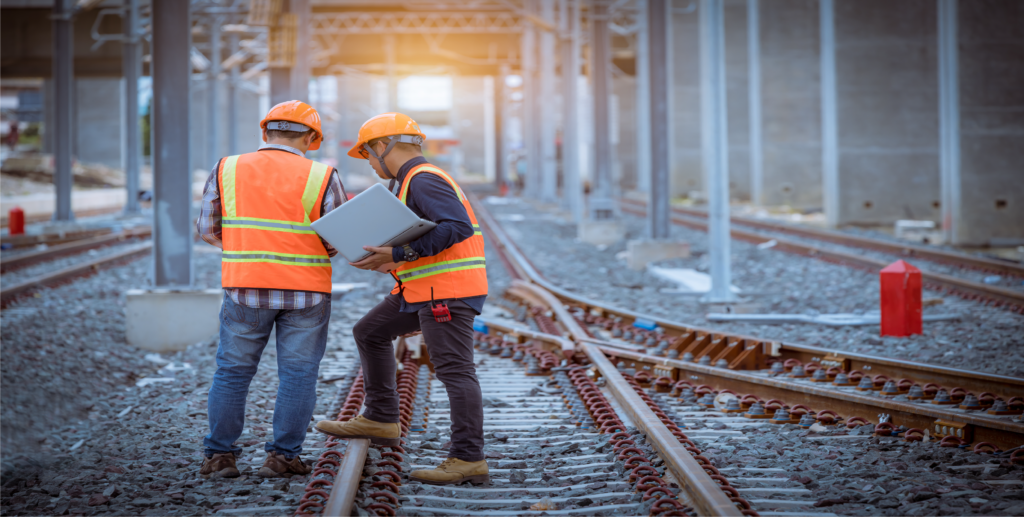 Entry Criteria and Core Skills
To be a successful applicant for this job, training providers and employers are looking for a Rail Engineering Apprentice who is aware of safe and professional working practices, general engineering techniques, how to work effectively and contribute towards engineering solutions, has awareness of commercial principles and it's implications.
So, Core skills for this apprenticeship include the ability to understand and comply with safe working practices, willingness to prepare for and deliver a high standard of technical work, the ability to identify and report problems, to utilise tools, materials and equipment effectively and finally all applicants must possess effective communication skills.
What do I need to be a Rail Engineer Apprentice?
To be a Rail Engineer, you would be on the front line of the railway, keeping all the trains running smoothly through managing safe construction, installation and upkeep of the extensive network.
The day-to-day responsibilities of this apprenticeship include…
Assisting in the Construction and maintenance of The Railway and it's components
Contributing to functional and operational tests using specialist equipment
Helping to diagnose equipment failures and prevent future faults
Specific Knowledge and Skills required
TRACK Understand the process for track installation, methods and techniques for track inspection, maintenance and replacement, what constitutes a track defect or variation, track work instructions, hot weather restrictions and extreme weather plans. Maintain the track and its environment including vegetation and drainage.
ELECTRIFICATION Understand electrical principals. Under direction: assist in maintenance and installation of railway electrification equipment and components; assist in isolation and earthing of electrical systems at different voltages and frequencies, working on live battery & inverter systems and maintaining substation plant.
OVERHEAD LINES Understand mechanical principles and construction design. Follow instructions to assemble overhead line components so to keep in line with detailed specification, using lifting and access equipment while working at heights.
SIGNALLING Understand function and characteristics of railway signalling systems, including electrical, electronic and mechanical principles. Under direction: install & wire signalling or control systems; install position and label equipment, components and cables, undertake relevant checks; assist in testing of components and equipment plus maintain and rectify signal control systems equipment.
TELECOMS Understand principles of electronic devices, circuits, data and communications equipment. Understand the types of operational constraints when carrying out telecoms installation and maintenance activities.
TRACTION AND ROLLING STOCK Understand vehicle design, construction, maintenance and operation. Under direction, carry out preventative and scheduled maintenance activities and follow vehicle maintenance instructions on T&RS communication equipment and check subsystems are operating correctly.
What Qualifications do I gain?
Qualifications gained during this Apprenticeship:
– Level 2 Rail Engineering (Competence)
– Level 2 Rail Engineering (Technical Knowledge)
Duration of Apprenticeship:
12 months
Maximum Funding available:
– £12,000
Level of Apprenticeship:
Level 2 – Equivalent to 5 GCSE passes (see below)
Possible job titles include; Track Operative, Overhead Line Operative, Electrification Operative, Traction & Rolling Stock Operative, Signalling Operative, Telecoms Operative.
Ready to Apply? See some employers / training providers ready to hire in the links below:
Or, check out some of the other engineering and manufacture apprenticeships listed on our website: