Tips for L3 Digital Marketer Apprentices
A social media strategy is a plan of action for using your social media platforms as a marketing tool. As a Level 3 Digital Marketing apprentice, being able to create and implement social media strategies is a key factor.
The objectives of any strategy are to increase brand awareness, build brand recognition and create brand loyalty.
The 4 Ps of the Marketing Mix on Social Media
Social media marketing strategies are typically executed by the following four P's:
Product: What is being sold? Is it a product, service, idea or information?
Place: Where should it be sold? Facebook, Twitter or LinkedIn?
Promotion: How should it be promoted on the platform? E.g. sponsored posts or ads on Instagram
Patience: How long will it take before reach goals are met?
Do's and Don'ts of Social Media Marketing Strategies
We have gathered a guide listing the best practices, and things to do and to avoid when it comes to social media marketing strategies.
Social media marketing, when done right, can be a powerful tool. But many companies make mistakes in their approach to it. This section explores the common mistakes made by companies when they use social media in their campaigns and how to avoid these things when starting a campaign of your own.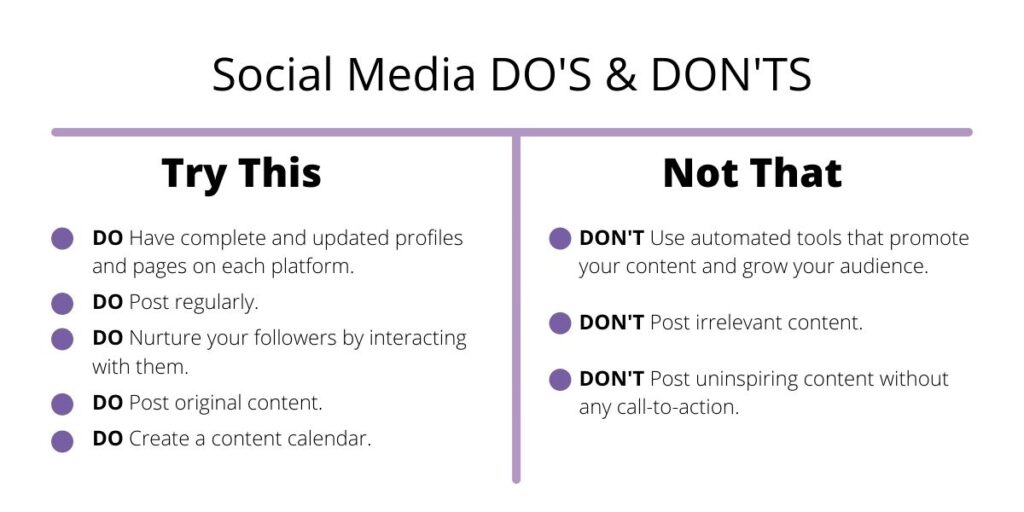 Must Do's of Social Media Marketing for businesses:
1) Have complete and updated profiles and pages on each platform. The saying "first impressions are everything" certainly rings true on the Internet. People might be meeting the company for the first time via these social media accounts and it's vital that you depict the company in a positive way from the very start. If you want people to trust what you're advertising, make sure your profiles are fully-fledged (completed), professional looking and that you upload high quality profile and cover pictures.
2) Post regularly. Make sure to engage with your community at least once or twice a week. Post too sparsely and you risk missing opportunities to drive awareness of your brand, but post too frequently and you might annoy your followers instead!
3) Nurture your followers by interacting with them. It's important to show your audience that you're active in social media. Not only active posting content, but also active listening to them, and caring for them. 1-2-1 genuine interactions can increase not only the engagement rate on your posts, but also the number of shares and even reach.
4) Post original content. The content you post must always be owned by you/your company. Not only that, but if it's too similar and many ways to other content from competitors and other accounts, apart from plagiarism and copyright issues, you will be facing a bored audience who will lose trust. The reason for many people to follow an account is to see what original content they share.
5) Create a content calendar. This will save you tons of time and headaches. You can either use your own spreadsheets, or some more sophisticated ones, such as this HubSpot's Downloadable Template for Excel.
Things to avoid on Social Media Marketing for businesses:
1) Using automated tools that promote your content and grow your audience. It's tempting to use tools that do this for you but the problem is that the followers they create for you are not interested in what you have to say and will unfollow after a few days.
2) Posting irrelevant content. Always try to post content on social media platforms which are relevant to your business or industry. If your company is an app development company, don't talk about how much weight people lost over the past year!
3) Posting uninspiring content without any call-to-action. Often times, marketers just post an image or video without explaining what they want their audience members to do.
Conclusion: Keep the Basics in Mind
As a Level 3 Digital Marketer apprentice, you will find yourself working on social media marketing strategies many times throughout your journey.
It's important you always keep some basic guidelines in mind, and stick to them, breaking them only when you know it will work. The rules are made to be broken, but only with a study and research behind, that supports those decisions. Ideally, you should stick to the best practices, which have been proven to work.
We post apprenticeship tips, guides, news and general information on a weekly basis. Sign Up to our mailing list to receive the content that is most of your interest directly on your inbox!
Did you find this content useful? Share it with your followers on social media!