Social Media Marketing Overview
Social media is growing by the day. With over 45 million active social media users in the UK, there is a whole market waiting for you to tap into. Marketing your products and services through social media is a simple and free way to raise awareness for your business. Express yourself with the complete creative freedom to show your audience more about your mission statement, core values and culture. Social media marketing enables you to grow brand awareness, provides customer interaction and increases traffic to your site. Read on to find out our five reasons for implementing social media into your marketing strategy.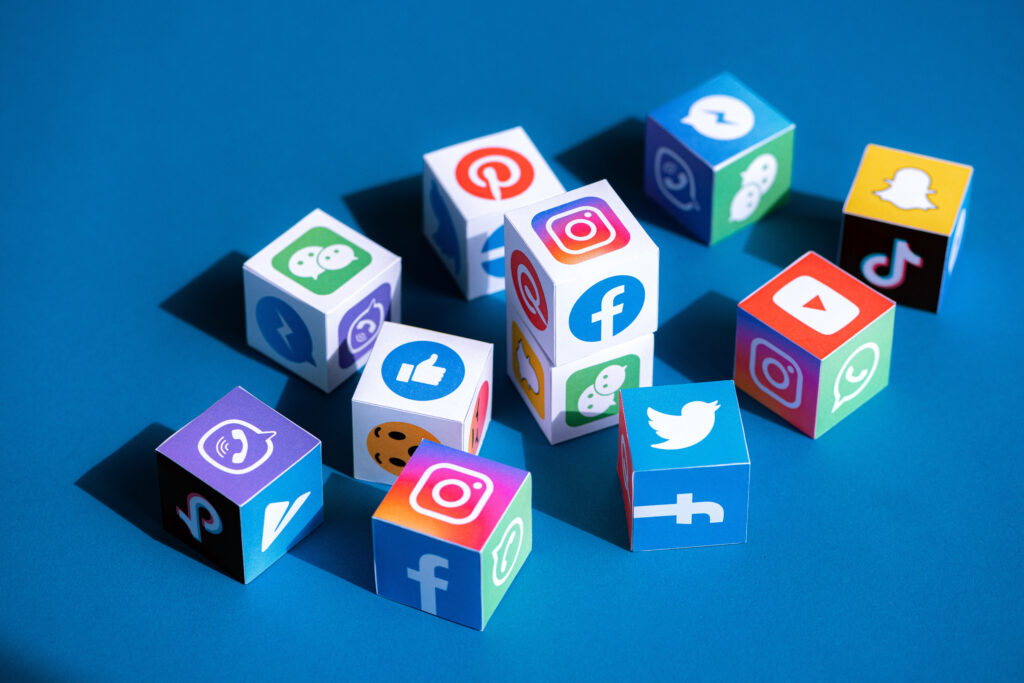 1. Grow Brand Awareness
Brand visibility is an integral part of any marketing strategy. Social media offers a way to increase your brand awareness across an array of platforms, connecting you to new audiences and potential customers. Given the vast quantity of users, adding social media to your marketing mix is a must.
Being seen regularly by customers can help build their trust which, if done consistently can lead to repeat purchases and visits to your site.
It's important that when a new customer visits your site for the first time, they can see that the brand is reputable. Seeing your presence and legitimate following on social media will help… offer a level of validity that can lead to potential customers putting their trust in you and potential relationships being created.
2. Engage With Customers
The more you communicate with your audience, the higher chance you have of converting them into a customer and building customer loyalty.
Replying to comments left by your audience is key to retaining followers. Making sure you respond in the correct tone and manner, whilst also being prompt, will show customers you care. Thankfully you can answer any problems almost instantaneously through social media. As easy as it may be to reply to general queries, you must also respond to negative feedback in the same manner aforementioned. Providing insightful responses can even help to show other members of your audience that perhaps the negative comment may not be an accurate representation of your brand.
Some of the best platforms to engage with customers are:
LinkedIn
Twitter
Facebook
YouTube
Instagram
While responding to comments may be time-consuming, it is certainly worth it. Growing relationships can help build customer loyalty. A direct impact of customer loyalty may be customers recommending you to their peers.
3. Cost-Effective
Social media marketing is perhaps the most cost-effective method of advertising. The reason being is that it can be completely free to create an account on the most popular platforms such as LinkedIn and Twitter.
If you do decide to pay for ads/promotion it is extraordinarily cheaper than alternatives such as magazines, mailshots and radio. In today's society, it is also a more popular medium than the other alternatives mentioned. Do you sacrifice the quality of the results? The answer is no, social media advertising still offers the same level of awareness and engagement which further verifies that social media marketing is a must for your marketing mix.
One drawback is the time you will have to dedicate to creating content. Engaging and insightful content isn't easy to produce and can take up a lot of resources, however, the return-on-investment social media marketing provides shows that this is time well spent.  
4. Market Awareness
As a business, it's important to understand the needs and wants of your customers. Social media provides a way to monitor this. By monitoring the content your customers are engaging with you can see what interests them. This might have never been seen without having a social media presence, making social media marketing an extremely useful research tool.
Not only can you monitor customers, but you can also monitor the activity of competitors. You can use competitors to see what content and products are popular with similar audiences. You can find out if a competitor is using different keywords to you and if they're taking advantage of these keywords and hashtags then you now have a chance to see which are performing well and in turn implement them for your own business.
Run polls and ask questions to find out more about your customers' needs. Spark up conversations with customers. Find out their wants directly and you may even have a chance to reply imminently to any feedback they offer, ensuring they aren't left feeling confused or helpless.
5. Increase Site Traffic
Perhaps the best reason for implementing social media into your marketing mix is the countless opportunities for driving traffic to your site. Posting about products and services and linking back to your site is a great way to do this. The more engaging the content you post is, the better the interaction you're likely to receive.
Post about your blogs, products and services through different social media platforms and link back to your site so any engagement with the post leads back to you. The level of engagement determines the amount of traffic to your site where you can then promote further products and services.
Using engaging content such as polls and videos can increase the likelihood of a post being read, shared and engaged with. If your content gets shared with new audiences then there will be even more awareness for your posts which in turn will increase the number of potential visitors your site gets.
Conclusion
Social media is rapidly becoming more popular and opportunities to grow brand awareness will only keep on coming. Remember your competitors are already increasing the value of their brands through social media marketing and interacting with audiences that you are missing out on. The sooner you implement social media into your marketing mix, the faster you will see the results reflected in your brand.
Check out some other Digital Apprenticeships blogs here.