If you've got a knack for working with wood and other materials to build your own masterpieces, a Level 3 Advanced Carpentry and Joinery apprenticeship is the perfect way to start a new career.
There is a growing demand carpenters and joiners within the industry, to help meet the need for new homes. So now is the best time to start!
If you enjoy taking the lead within projects, and using your unique skills to guide others to meet the needs of a client, this is the career path for you.
Want to know where to start? Read on.
Level 3 Advanced Carpentry and Joinery Apprenticeship entry requirements
To become a level 3 advanced Carpentry and Joinery apprentice, it is recommended that you take the Level 2 Carpentry and Joinery course prior to taking this course.
However, this depends on your employer, and if you have the right skills and experience already, this may not be necessary!
You'll have the chance to work both independently and alongside others, with many opportunities for career growth and progression as you refine your skills to become a specialist.
What does a carpentry and joinery apprenticeship involve?
On a day-to-day basis, a carpentry and joinery apprentice's key responsibilities are to work with wood and other building materials to create components for buildings. No two days will ever be the same, as your unique skills and knowledge will be essential for producing a range of custom components on a variety of projects.
Items that you will be responsible for producing and installing can range from windows and doors, even to staircases, floor joists and roofs.
It is essential that all work is completed to industry standards, following all the relevant safety regulations.
Within this apprenticeship, you'll decide whether you'd like to become a specialist in either carpentry or joinery, which have very different functions.
Carpenter vs Joiner
Advanced Site Carpenter
An Advanced Site Carpenter typically works on building sites, and is in charge of creating and installing complex and bespoke components for new houses or other structures.
Most often, a carpenter will be working on irregular or complex roof structures.
You will normally collaborate with other tradespeople on-site, such as bricklayers, plasterers and plumbers, site management and contractors.
Advanced Architectural Joiner
An Advanced Architectural Joiner will more often work inside a workshop, producing complex components that require advanced skills with woodworking machines, or working to restore or repair existing components.
You will liaise with other workshop colleagues as well as architects, designers and customers.
Working in team is essential if you want to become a carpenter or joiner. You will also have to supervise other people while using machinery and tools to create, refurbish or repair structures or components from the designs, plans and specifications of architects and designers that meet the client's expectations.
Once you have enough experience to supervise and be responsible for others, you will be able to progress your career to the next level and become a team leader, trade foreperson, contract, or works manager.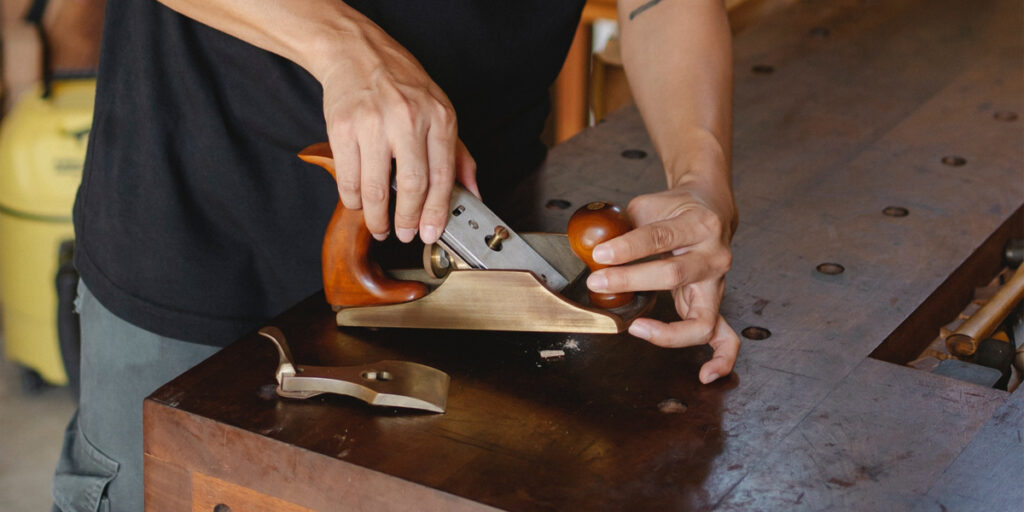 Level 3 Carpentry and Joinery Competencies
As part of your job role, you will carry out many different duties that will satisfy a number of competencies to meet the criteria of your apprenticeship.
Core competencies
There are a number of core competencies to meet during your apprenticeship. These include:
Identifying requirements and planning a schedule for your work, notifying colleagues.
Ensure all fire doors meet legal requirements.
Understand technical specifications and ensure all work is completed in accordance with legislations.
Select the right quality and quantity of materials needed for the work.
Take a lead when working in a team, especially when complex or non-standard work is involved.
Utilise a range of advanced skills which allow them to carry out complex work
Communicate professionally with a high level of customer service
Carry out quality checks of own and others work and take action
Carry out pre-use checks of all tools and equipment.
You will also have to undertake some more advanced competencies for your chosen specialist area. These will be different for carpentry and joinery.
Advanced Site Carpenter duties
Additional duties that you will be responsible for if you choose to become an Advanced Site Carpenter include:
Install complex and non-standard doors and window frames, shaped door and hatch linings, partitions with openings and changes of direction and staircases with turns.
Install accessible service encasements, bespoke wall/ floor units and fitments, panelling and stair components.
Erect inclined roofs with gables, roof verges and eaves.
Repair and or replace frames, mouldings, floor or flat roof joist coverings, door and window ironmongery, window components, structural joists and rafters, window components, guttering and downpipes.
Advanced Architectural Joiner duties
Additional duties that you will be responsible for if you choose to become an Advanced Architectural Joiner include:
Set out complex work tasks for non-standard architectural joinery products.
Mark out accurately from setting out details for the manufacture of complex and shaped doors, opening windows, units and fitments and staircases.
Manufacture complex and shaped architectural joinery products.
Set up and use fixed machinery.
Use and maintain relevant tools and equipment required for advanced work.
Knowledge modules for Advanced Carpentry and Joinery
As well as your daily duties, you will learn some knowledge modules as an Advanced Carpentry and Joinery Apprentice, to gain the skills and knowledge required to progress in your role.
Core knowledge modules
Some of the core knowledge modules you will take as part of your course are:
The principles of environment, health, safety and welfare
The responsibilities under current legislation and official guidance to undertake the work
How to use health and safety control equipment
The different workplace signs and safety notices and their meaning
The principles of building construction
How to interpret and produce relevant information from drawings, specifications and work instructions
How to estimate resource quantities to carry out work
How to communicate and work with others effectively in the workplace
The characteristics, quality, uses, sustainability, limitations and defects associated with timber and timber-based products and components
Hand Tools : how to prepare, use, maintain and store hand tools
Power Tools: how to prepare, use, maintain and store power tools
How to plan work activities for self and others in order to meet schedules and deadlines
Again, as you will be choosing either carpentry or joinery as your specialist area, you will have to take additional knowledge modules related to the area you have chosen.
Advanced Site Carpenter additional knowledge modules
As an advanced site carpenter, you will undertake the following additional knowledge modules:
The different types of fixings and fasteners for site carpentry work including their uses
How to form advanced woodworking joints
How to carry out complex first fixing work
How to carry out complex second fixing work
How to carry out complex structural carcassing work
How to install and maintain structural and non-structural carpentry components
Advanced Architectural Joiner additional knowledge modules
As an advanced architectural joiner, you will undertake the following additional knowledge modules:
The characteristics, quality, uses and limitations of relevant materials
Component performance requirements
Advanced architectural joinery technology
How to form shaped woodworking joints
How to set out and mark out for shaped joinery products
How to manufacture and repair shaped joinery products
How to take site measurements and site fix joinery products
How to prepare and use fixed machinery to create shaped work
Other mandatory qualifications for a Carpenter or Joiner
As a carpenter or joiner, you will also take a mandatory Level 2 qualification in Fire Door Installation Awareness.
Conclusion
To conclude, an Advanced Carpentry and Joinery apprenticeship is a great option for anyone who would like a career in creating bespoke components with wood and other building materials.
You'll be able to start your career in a growing industry, with lots of opportunity for career progression.
If you're already working in the industry, it is a fantastic way to consolidate your knowledge and gain a qualification while working. The brilliant news is that you won't have to pay a penny for your education, as this is covered by the apprenticeship fund.
For employers, it is an ideal way to up-skill your workforce and give your employees an opportunity for career development.