Offering an outstanding alternative for University. Art and Design offers apprenticeships in a wide range of settings:
British made jewellery and silverware have an international reputation and therefore the continued success of the sector will depend on maintaining a skilled, well-trained workforce.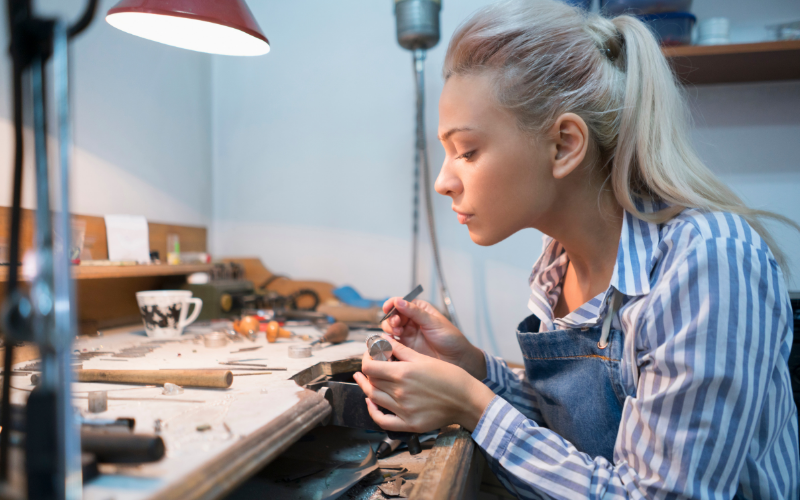 What qualifications do you need? Are you eligible?
You will need both Maths & English completed at GCSE level. Other than that, all you need is a keen interest in Art, Design and Manufacturing. Because of the nature of an apprenticeship, having a curiosity & interest in what you are learning about is what potential employers are looking out for.
To be eligible for an apprenticeship, you must be 16 or over and not already be in full- time education. However, apprenticeships aren't just for school leavers or people starting their career, you might be looking to change careers or upskilling in your current job.
What to expect?
The core focus of a jewellery apprenticeship is to give you experience of using hand and powered tools and equipment effectively and safely, helping you understand how to work with designs and specifications and giving you experience of how to work with different materials.
Typical day-to-day duties may include:
Obtain and understand the requirements of a design
Working with CAD designs
Operation of equipment to produce items using CAM machinery
The cutting of metals to given shapes and designs
Working with hand tools and machinery to derive a range of different finishes and patterns
Production of items in wax for casting
Casting items in precious metals
Working with enamels to achieve required finishes
Selecting and setting precious stones
Polishing and finishing items
Examine finished jewellery and/or silverware products for quality;
Repair and/or rework jewellery and/or silverware items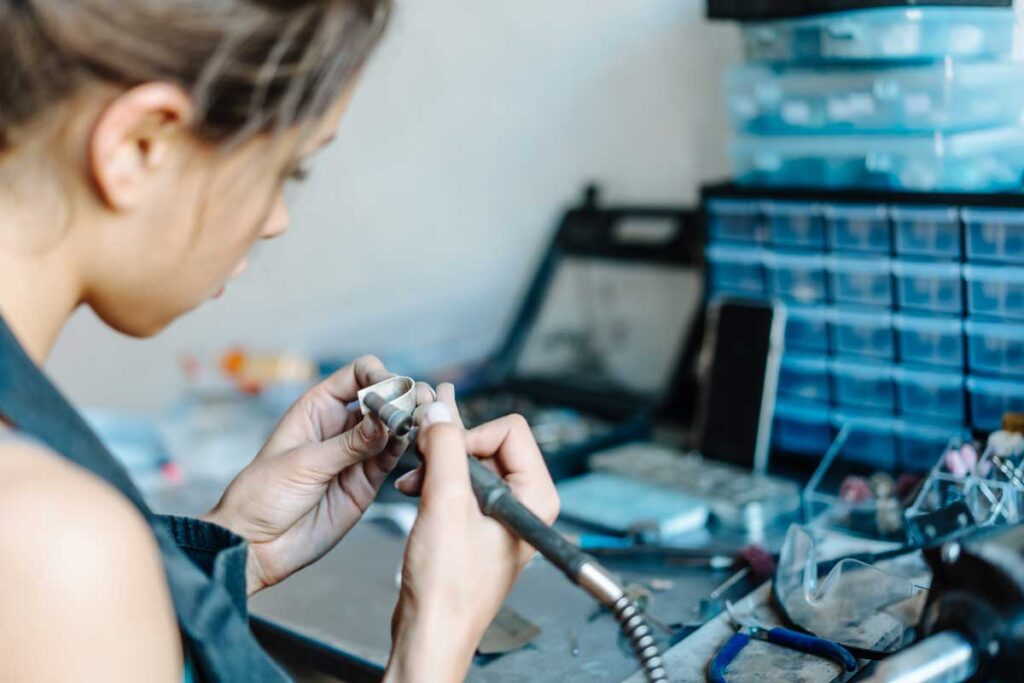 Additional skills you will learn as an Apprentice:
Lapidary – selecting, cutting and polishing precious and semi-precious stones
Casting – forming moulds and working with molten precious metals to form shapes
Stone setting – selecting and fixing stones into a form and ensuring they are secure
Mounting – creating parts of jewellery to which precious stones are fitted
Engraving – using tools to create patterns, including text, images and intricate patterns
Enamelling – working with enamel to create coloured patterns, images and finishes
Polishing and finishing – applying different processes and materials to produce a polish and shine to an item or highlight a special finish
CAD/CAM – working with designers to produce model forms for manufacturing
How much will you earn?
For the first year of your apprenticeship, you'll be paid the apprentice minimum wage. Once you've completed your first year, your pay goes up to the minimum wage for your age group:
23 and over – £9.50
21 to 22 – £9.18
18 to 20 – £6.83
Under 18 – £4.81
Apprentice – £4.81
You'll also get holiday pay, bank holidays and sick leave.
So, you'll be learning a new skill, starting an exciting new career AND earning as you work, without a need for any student loans or university debt!
FAQ's:
The program takes 13- 36 months to complete.
As part of the apprenticeship, 20% of your time (one day a week if you are doing a full-time apprenticeship) will be taken up with apprenticeship-related study or training. This can be done at a college, university, training provider or can be provided by the business. This involves things like mentoring by your manager, work-based projects, industry webinars, research and assignments.
This study will prepare you for the End Point Assessment (EPA), which you must do in order to complete the apprenticeship. This can involve things like a workplace observation, an online test and producing a portfolio of work.
Achievement upon completion: Level 3 (Advanced)—equivalent to A-levels.
Don't miss out on securing your dream role and kickstarting your digital marketing career – follow us on social media to stay up to date on all upcoming apprenticeship programs. Join our community, ask questions and take the next step to a new career!

Learn more and Sign-Up Here.